High-Quality Asphalt Cleaning Services in Portland
In order to prevent deterioration and preserve the look of your asphalt, regular cleaning is required to protect the asphalt from moss build up. Our team at Moss Busters specializes in thorough, yet careful, cleaning your asphalt so that it is properly cared for but isn't harmed during the cleaning process.
Proper Asphalt Cleaning
In the Pacific Northwest, it's common to go weeks without direct sunlight, which promotes the growth of moss and will quickly ruin the surface of your asphalt. Asphalt that is in direct sunlight does not need to be cleaned, but if your asphalt has moss on it, it needs to be cleaned right away.
Moss has various rootlike structures, called rhizoids, that grow into the surface of the asphalt and cause cracks and erosion. If you don't clean your asphalt, it will eventually need to be replaced or recoated.
Our Asphalt Cleaning Method
At Moss Busters, our asphalt cleaning method is designed to protect the surface of your asphalt while thoroughly cleaning and protecting it from harmful moss. We use a walk-behind stiff bristle motorized brush. This manual removal ensures that every inch of your asphalt is properly cleaned and the surface is protected from any damage.
No harsh chemicals or pressure washers are used to clean your asphalt. Chemical sprays don't kill the roots of the moss. Instead, they harm the surrounding environment without addressing the core issue. Additionally, pressure washing is guaranteed to damage the surface of your asphalt. The power of the pressure wash causes cracks in the asphalt and takes the surface aggregate off with it.
When to Clean
Asphalt cleaning services should be scheduled as soon as you find moss on your asphalt. Asphalt cleaning in Portland is easiest to do in the summer months, and the presence of consistent, direct sunlight will prevent moss from growing back right away. That said, we can clean asphalt at any time of the year.
Moss grows in the fall and winter due to lack of sunlight and increased moisture in the air. If you opt to get your asphalt cleaned in the fall or winter, we will put down a product after we clean the surface of your concrete that prevents the moss from growing back.
In order to keep your asphalt strong and clean, be sure to have the surface properly cleaned every 1-2 years.
Book Your Asphalt Cleaning Service Today
If you've found moss on your asphalt surface, give us a call today for a free quote. We can help keep the outdoor spaces of your Portland-area home clean and protected through each season.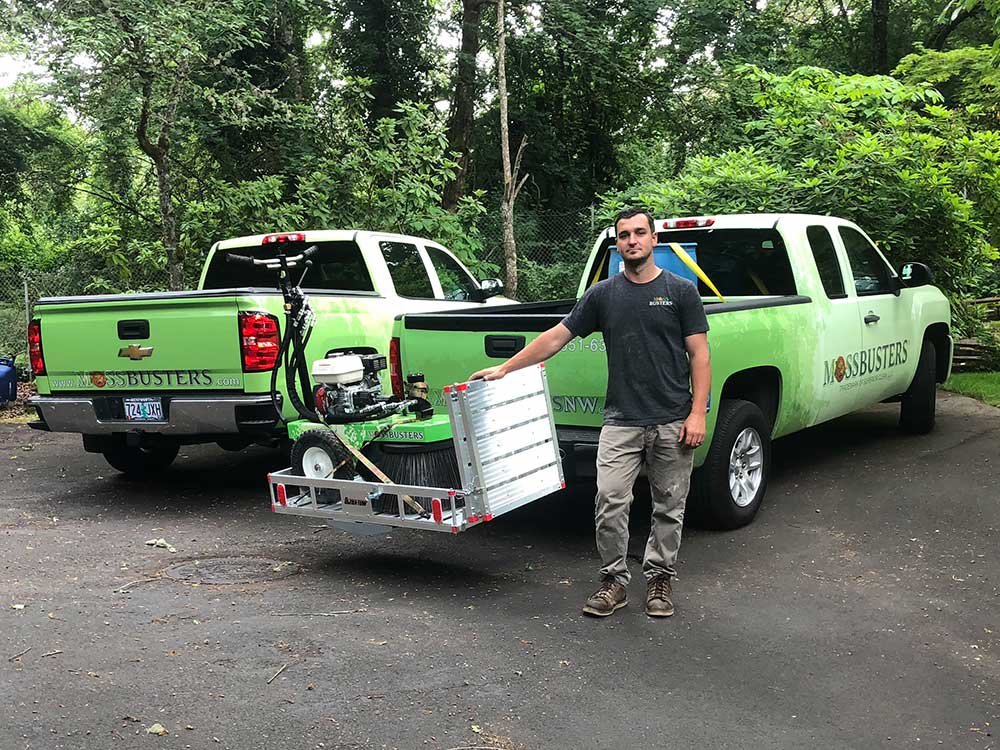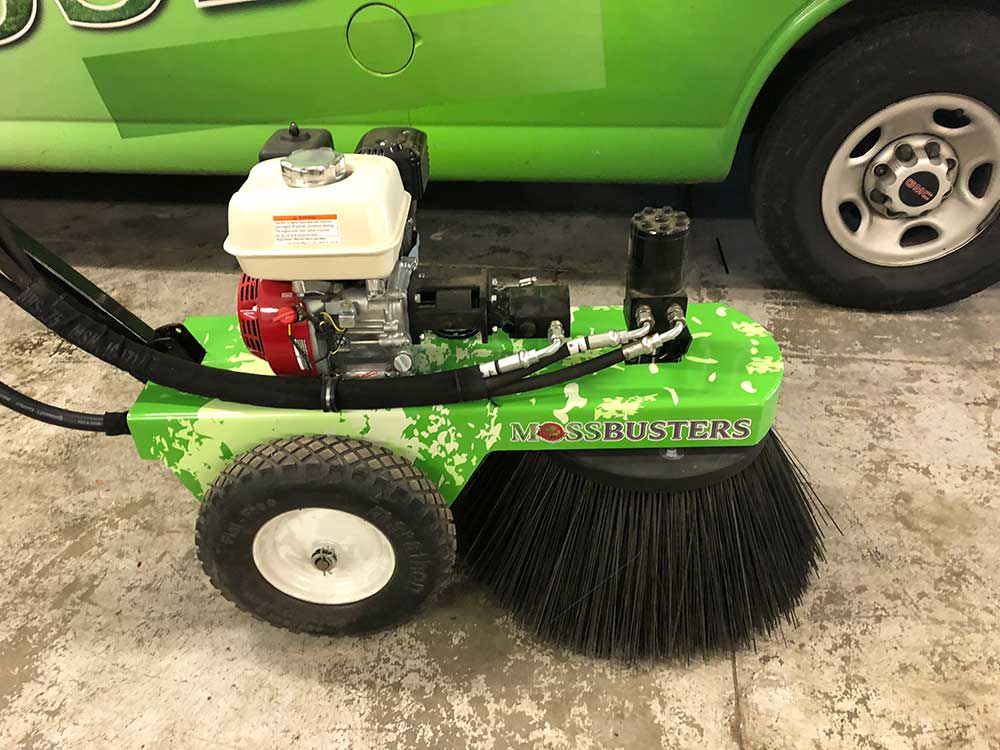 Moss Busters provided excellent service. The bid was reasonable, the service was done right, and the people who did the estimate and work were prompt, friendly, polite, and patient in responding to my concerns. My roof looks great!
Roxanne H. - SE Portland
The Moss Busters crew showed up on time and did a great job. They used special shoes made to reduce wear and tear on the roof as well as having stabilizers on their ladders so they didn't just lean the ladders on the gutters. I definitely will hire them again.
Mark G - West Linn
Excellent job! The crew took the time to move sensitive plants and adequately protected everything while the work was being done. The clean-up was especially well done.
Virginia T - Happy Valley
Vitaliy and his crew were very professional and personable from start to finish. They communicated with me throughout the process. It is evident that Moss Busters takes pride in its work all the way through to completion. My roof looks brand new!
Kristy M - NW Portland
Moss Busters did a wonderful job. They are fast, efficient, and all their work is extremely well done ... my roof never looked better. Add to that, they are also prompt, polite, and good humored ... it's a joy doing business with them!
Sara W. - SE Portland
Moss Busters always does a great job of spiffing up my home. Not only did my house look great on the outside, but a few weeks later they took care of my parents' roof as well. They are very professional and do excellent work!
Jacob M - Clackamas
Outstanding. As my husband and I drove up to our house, we were dazzled. It is a 20 year old house, but after Moss Busters' work, it looks like it was built yesterday. And the pride we feel in our home again is priceless.
Susie N - Clackamas
I would DEFINITELY recommend using Moss Busters. The were prompt with a quote, when I had questions, Vitaliy answered them all. When I scheduled the service, they gave me an exact date and time range AND SHOWED UP!!! Will definitely use again when we need our roof cleaned next year!
Jo Anne P - SW Portland
It wasn't cheap, but the quality of the work was outstanding, and they got everything done within a couple hours. I have already recommended them to neighbors.
Kyle E - SE Portland
We couldn't be more pleased. We highly recommend Vitaliy to all our friends and neighbors now. We look forward to working with him again in the near future to get our driveway, sidewalk, walkways and patio cleaned.
Max K - Lake Oswego